[Updated: 10.15.2017] The 2016 election left many of us in despair. Yet a measure of solace comes from an unlikely source: Anti-Trump church signs across America.
So many of us never dreamed Donald Trump could possibly win the White House despite losing the popular vote by 2.8 million. Nor did we imagine the Christian Right would embrace him and push him over the finish line. After the election, we hoped for the best. But even before taking office, the GOP's president proved himself even more awful than we imagined.
Yet there are some bright sides. Among them are these funny, poignant, and thought-provoking anti-Trump church signs. Here, we see the beginnings of a newly assertive Christian Left joining the resistance and standing up in protest. In recent decades, the face of Christianity has become a loud, cruel, and intolerant minority forcing their beliefs on the rest of us. Yet churches — especially black churches — played a leading role in both the Civil Rights and the Abolitionist movements.
Finally, Christian progressives are taking back their Jesus. Halleluja! It's about time. And the best thing is, churches across America keep coming up with great new signs. As I discover them, I'll add them to this post.
The top 28 most amazing anti-Trump church signs.
28. What would Jesus, a brown, Middle-Eastern Jew say about white supremacy?
This may be the best church sign I've read and I'm proud to say it's in my community and a church I grew up in. pic.twitter.com/Q6w3Bh2rXO

— vaporgazer (@vaporgazer) October 14, 2017
27.  Abraham was an immigrant, Moses was a fugitive, Jesus was a protester. Judge less, love more. This gem from the Sayville United Church of Christ (UCC) was taken in Sayville, N.Y.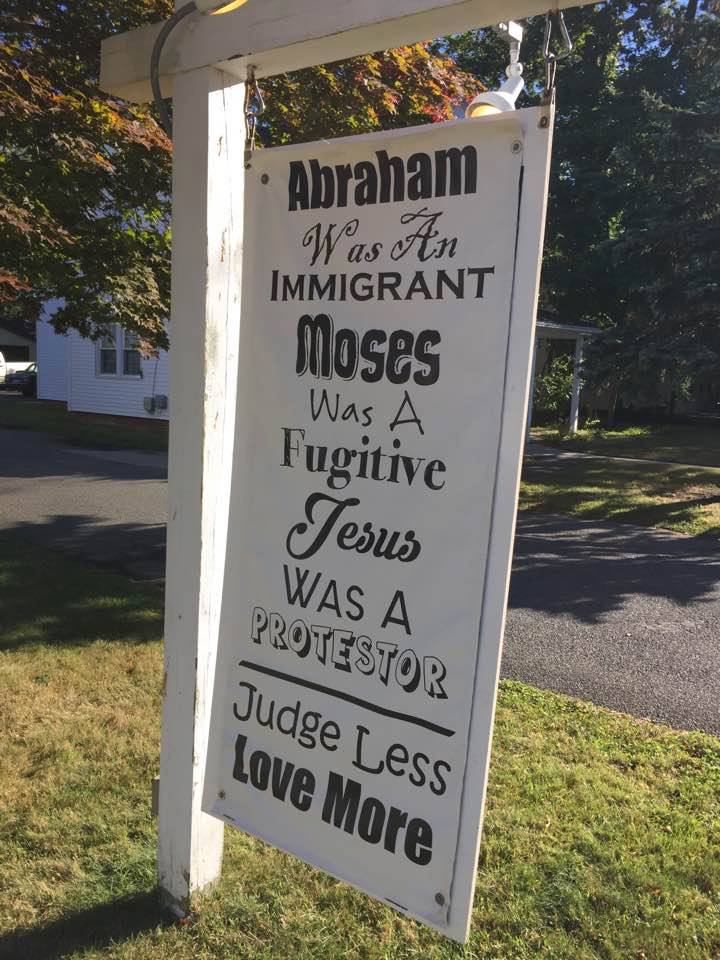 26. White supremacy is a sin. Just say it. The Christian Post caught this sign from a small church in Iowa after Donald Trump defended the white supremacists who marched on Charlottesville.
Small Iowa Church's Sign Declaring White Supremacy a Sin Goes Viral as Trump Defends Alt-Right https://t.co/looKSddaaM via @ChristianPost

— Kathy Barton (@kathy_kbarton51) August 22, 2017
25.  Kneeling welcome here. Arapaho United Methodist Church shows support for Colin Kaepernick and the other NFL Anthem protesters. #TakeAKnee
Today's church sign was in support of #TakeAKnee pic.twitter.com/P6OiLiJgq2

— 🇰🇪. 🇷🇦🇨 🇭 🇦 🇪🇱 (@rae_muk) September 30, 2017
24. Dear Lord, is it time to impeach? Give us a sign and blot out the sun. This awesome church sign was inspired by the solar eclipse in August.
Church sign- haha! #Eclipse2017 #Eclipse #Trump #ImpeachTrump #TrumpResign pic.twitter.com/ExTVxcZabV

— Bo Bradley (@Vitalbiz) August 23, 2017
23. No Trump. I don't know if the church was responsible for the traffic sign in front of it, but I'm including it because it's pretty danged funny
Take notice to the no parking sign in front of the Catholic Church lolrotf pic.twitter.com/q3zHO3mh6u

— #RATIONALPARTY ☆ (@3006fmj) August 2, 2017
22. "Dear God, please make Donald Trump your servant." This is the most poignant of the anti-Trump church signs. Yet Rev. Titus James of the North Heights Christian Church in Wichita, Kan. sincerely hoped the president-elect would rise to the occasion. He told KWCH he would pray for him and for healing.
"…We have Donald Trump as a result of democracy, as the result of a free election. What are we going to do? I say we get behind him and pray for him, but also as citizens, let's do our part to help heal our land as well."
He kept the sign up through the day of the inauguration on Jan. 20, 2017.
One Wichita church has this sign that mentions president elect @realDonaldTrump pic.twitter.com/nizDlUIcua

— Aaron Thompson (@KWCHAaron) January 3, 2017
21. "Tweet unto others as you want others to tweet you." Here's a humorous twist on the "do unto others" command from Jesus Christ's "Sermon on the Mount."
Family trip. Had to pull over and take a picture of this church sign. #TheGoldenTweetRule pic.twitter.com/rpkNB6SYKQ

— Mr. Csajko (@MrCsajko) July 13, 2017
20. "When I find myself in Tweets o' trouble, Mother Russia comes to me. Speaking words of wisdom. COVFEFE!" This may not actually be a church sign, but it's still pretty danged funny.
19. "God deceived poor white folks." Rev. Michael R. Jordan from the New Era Baptist Church in Birmingham, Ala. enjoys trolling Trump supporters with his anti-Trump church signs. He put up the sign shown below in January, before the inauguration. The other side of the sign reads, "Undercover racist elected Donald Trump." Jordan's anti-Trump church signs hit the nail on the head.
Pastor trolls Trump supporters with church sign https://t.co/fKpGFPmfqz pic.twitter.com/gEw5VLeb8R

— habitforming (@habitforming) April 7, 2017
18. "Love your neighbor, protect Medicaid." Did Jesus Christ send bills for healing the sick? No, he did not.
today in church sign pic.twitter.com/qIeGiARe8I

— Bosba (@bosbapanh) July 9, 2017
17. "Dear Rep. Scalice & Sen. McCain. As you walk the halls of Congress to cast votes remember health insurance benefits for all!" Before the Republicans' "Skinny Repeal" was defeated in the Senate, this was among the most widely circulated of the anti-Trump church signs.
A sign outside a church, downtown Washington, DC. pic.twitter.com/jlyYdAAXQT

— Alexander Panetta (@Alex_Panetta) July 29, 2017
16. "If you are more fortunate than others, build a longer table, not a taller fence." Unlike Donald Trump and the Republican Party, the Canadian Memorial Centre for Peace gets this. Due to the GOP's harsh new anti-immigration policies, refugees are now flocking to Canada instead of the U.S. So much for our being the "Land of the Free."
https://twitter.com/TraceyTorres/status/873798159318659072
15."I was a stranger and you did not welcome me." This refers to a passage from Matthew 25:43, in which Jesus Christ describes the Last Judgement. Those who welcomed and cared for Him — even though appeared to be nothing but a stranger and disheveled vagrant — will join Him in heaven. Those who turn him away will be punished.
For I was hungry and you gave Me nothing to eat, I was thirsty and you gave Me nothing to drink, 43. I was a stranger and you did not take Me in, I was naked and you did not clothe Me, I was sick and in prison and you did not visit Me.' 
Rev. Ron Gamer of the Wantagh Memorial Congregational Church on Long Island in New York has turned heads with his clever signs for years. But with Donald  Trump in the White House, he's gotten more political. This sign most obviously references the White House's policies towards immigrants and refugees. But the sign could also apply to the GOP's ill will towards the poorest and most vulnerable citizens.
A Wantagh church references the Pres. Trump refugee ban in biblical messages on sign. @77WABCradio pic.twitter.com/0DIN3kFE4U

— Jerry Barmash (@JerryBarmash) February 10, 2017
14. "God Said "Let us make them in our image" – that includes trans folks." Co-Pastor Robin Anderson from Commonwealth Baptist Church in Alexandria, Va. tweeted out this photo of their sign in response to Donald Trump's ban on transgender people serving in the military. In addition, the Pentagon's reluctant Joint Chiefs of Staff said they won't comply with the order because it didn't go through the proper channels. The CBC strives to be inclusive and welcoming. They recently hosted a workshop led by LGBTQ advocate, spiritual director, author, and speaker Susan Cottrell on "Reclaiming Your Faith: Taking Jesus Back from the Non-Affirming Church."
h/t to @BroderickGreer for tweeting this wisdom. Couldn't think of better words to put on our church sign. @commonwealth_bc pic.twitter.com/BINXpkaiVd

— Robin Anderson (@RobinAnderson15) July 27, 2017
13. "Rather than a wall, America needs to build a giant mirror to reflect on what we've become." Ouch. This sign from the Madison Avenue Baptist Church in New York City makes a damned good point.
Can I get an AMEN? #churchsign pic.twitter.com/JHChcgyDuV

— KeepOnBelieveInn (@YMBBastepaway) May 3, 2017
12. "'Stay woke' Luke 12:36." This refers to the apostle Luke urging people of faith to keep watch and wait for God to return like servants awaiting their lord. That way, when He arrives, they'll be prepared and open their doors to Him immediately.
Thats how to get ur #churchsign game noticed pic.twitter.com/SbhDJs6AZV

— Mike Dill (@MDRunning) May 1, 2017
11. "Make America compassionate again." This sign from St. Pius X Parish warmed the heart of an Instagram user passing by.
10. "No matter who is president Jesus is King." This house of worship may not have intended to slight Donald Trump, but it certainly takes him down a peg.
https://twitter.com/jarelleelaine/status/858720297893208069
9. "A narrow mind is usually accompanied by a wide mouth." Perhaps this sign wasn't specifically intended for the GOP's president, but it certainly seems that way.
8. "Love your neighbor." this sign from St. Stephen's Episcopal Church in Ridgefield, Conn. proclaims. This mother of anti-Trump signs then displays a long list of all the types of neighbors Jesus Christ wants us to love. The list includes pretty much all the groups Donald Trump has said hateful things about and then some.
The best message! #ChurchSign pic.twitter.com/gDMEIyaaRt

— Vivi Silva-Gil (@ViviSilvaGil) April 30, 2017
7. "A gay Christian is not an oxymoron. A hateful Christian most certainly is." Yet another provocative sign from Rev. Ron Gamer and the Wantagh Memorial Congregational Church. This time he's sending a message that being tolerant doesn't mean he has to tolerate Donald Trump's intolerance.
Great #churchsign! #church #SundayMorning #Christian pic.twitter.com/xmsxVE83Km

— Shane Joseph (@ShaneJoseph) April 23, 2017
6. "We believe in the separation of church and hate." This photo went viral in 2013, when an astonished person on Reddit posted it with the caption, "This is a real church." Other Redditors jumped on the thread to explain that not all Christians are right-wing haters and there are actually a lot of loving, kind, and affirming churches in the U.S. Perhaps this picture shouldn't be included in a post about anti-Trump church signs, as it predates his candidacy. But with a hardcore Christian Dominionist a heartbeat (or impeachment) away from the presidency and Donald Trump's May executive order on "Religious Liberty," this gem has never felt more relevant.
#churchsign pic.twitter.com/G92zdA9vzv

— KeepOnBelieveInn (@YMBBastepaway) March 3, 2017
5. "Friendship, not phobia. Muslims are our neighbors." The Prince of Peace Lutheran Church in Shoreline, Wash. showed solidarity with Muslims in the wake of Donald Trump's travel ban.
#churchsign pic.twitter.com/apj2viBMZs

— Wyllomy Greene (@WyllomyGreene) February 20, 2017
4. "Thou shalt not lie or use alternative facts," this sign from Canaan Baptist Church in Washington, D.C. proclaims. It appeared shortly after Team Trump propagandist Kellyanne Conway coined the term "alternative facts" to explain away her Orwellian lies.
Loving this #churchsign picture submitted by @ScienceClau #alternativefactsarenotfacts pic.twitter.com/xxlOyx1FW5

— FEMWOC (@femwoc) February 19, 2017
3. "No one has enough money to be a successful liar." The second in what I hope will be Canaan Baptist's anti-Trump church signs appeared in April. As an Instragrammer who goes by the handle @mcgroovan wrote, "Reverend Larry Owens, Jr. pulls no punches. #exposed"  Alas, journalist Renee Klahr is far more cynical.
Sorry church sign, I respectfully disagree. pic.twitter.com/8XXhKyqW9B

— Renee Klahr (@reneeklahr) April 23, 2017
2. "'The arc of history is long but it bends toward justice.' — Martin Luther King, Jr." As we sadly celebrated our first Black History Month of the hopefully short Trump era, this sign gave a much-needed reminder that we can still have a glimmer of hope for our future.
My neighborhood #ChurchSign this morning. #blackhistorymonth pic.twitter.com/SA2CTf14Yo

— djonathandavids' (@djonathandavids) February 1, 2017