Microsoft Bing, Content Editor, 2019-2020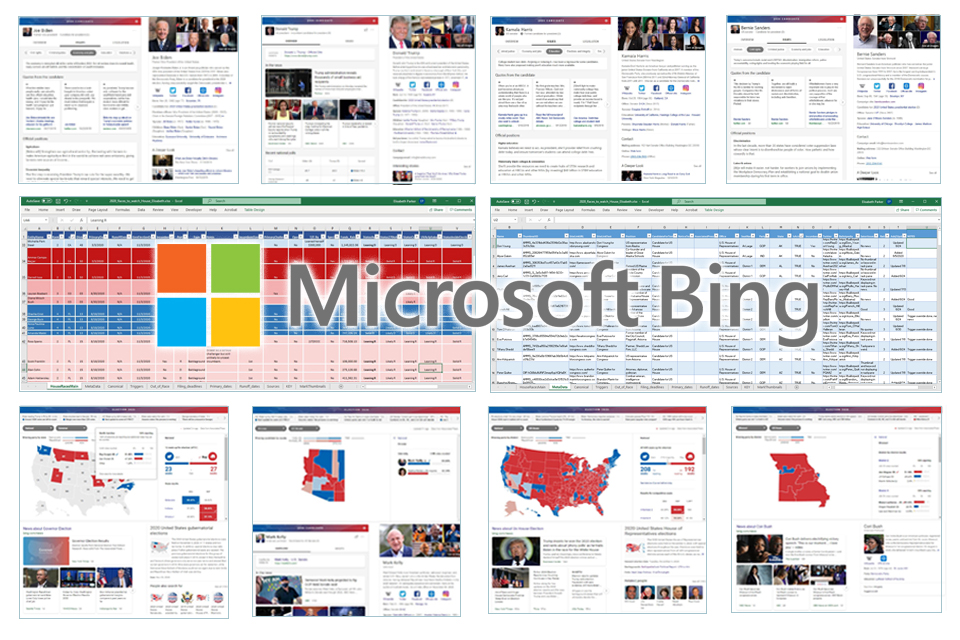 Researched, wrote, edited, optimized, and produced content to provide politically savvy Bing users with a timely, information-rich experience for the 2020 U.S. and state primaries and elections.
Executed goals as part of multi-disciplinary team in cloud-based enterprise environment with MS Outlook, Teams, Office 365, GitHub, MS SQL, Azure, Agile, DropBox, and Calendar. Also utilized proprietary tools (including all-time MS Bing Editorial faves like Spotlight, Satori, Trigger Finder, Distills, Rover, Shenbi, PowerBI, Rover, and more).
Analyzed trending topics and spiking queries in real-time while using large toolset to provide and optimize timely, accurate, and relevant Search Engine Results Pages (SERPs) to meet user intent.
Batch processed and formatted data via Excel to provide project schedules, status reports, and analytics in weekly scrums.
Reviewed, performed troubleshooting, and provided detailed feedback for 150-300 AI-harvested political issue stances per week across over 200 popular categories and subcategories.
Bing 2020 Election Coverage
One Spreadsheet to Rule Them All…
So how did we keep track of hundreds of presidential, Senate, and House candidates and dozens of highly competitive races and ballot measures? With spreadsheets. Lots and lots of spreadsheets. The one shown below is the one I used to track the U.S. House primaries and general elections. 
To view the 2020 House Races to Watch spreadsheet, follow this link or click on the image below.